Wednesday, March 15, 2006
Of Paul "He Scores Goals" Scholes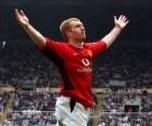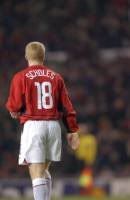 Did I ever mention that I'm a super duper, big big, massive, ultimate fan of the Ginger Prince aka Man United's Golden Nugget?
Not that singer Prince, but Manchester United's very own Midfield Dynamo Playmaker(in my opinion, Manchester United is nothing without him) but
Paul "He Scores Goals At Critical Moments" Scholes
Yeap.
I am a fan of his
.
Still a very big fan of his .
Been supporting him since that very season he came out lah (soom-pa!), he came in as a sub for Cantona, after that infamous kick to the Crystal Palace fan which subsequently got him suspended for 9mths (or was it 8?).
Scholes came out and started scoring in almost every match he played, that got me noticing soon. Started enjoying his play and get so excited when he gets the ball, telling my grandpa "orh orh, Orange Hair got the ball liao, confirm going to score again."
And again, and again, and again. He did that season. So impressed I was, I became a loyal supporter of his till this very day. 11 years liao loh.
First England player to score a hat trick since don't when lah, but also the first player to get red-carded since don't when. HaHA !!
Status: He is currently out for the whole season, since the Birmingham match and he got bumped in the eye. Suffering from double vision, but recovering, doing some footwork now, hopefully he gets back in time for next season.
Manchester United is boring to watch nowadays...Quality of play is also down....
Comments:
Not only Man U is boring, even Chelsea is a boring champion! I'm going to boycott cable TV if this continues.
jayaxe: wonder wat happens if FA ever decides to put a limit to the no. of foreign players you can have in a club. lol. chelski and arse will be in deep deep sh*t.
ff: wah sei, u never say i also dunno my email addy can be seen. serious~
Post a Comment
<< Home