Wednesday, December 27, 2006
of Boxing Day @ the EPL
& Chelsea draws at home against Reading
Merry Christmas & Happy Boxing Day, Man United !! =D


P.S : Man United's starting lineup looks good, keeping the fingers & feelers crossed.
Park & Ole'y starting the match.
Labels: Man United
Monday, December 25, 2006
just another day
nothing fantastic, basically worked till slightly after 1pm, head back and showered. read a book and fell asleep till dinner time. whipped something simple and ate. gonna watch some tv and fiddled with the comp. head back to sleep.

and it's another brand new day.

.merry christmas everyone. bring the house down or something. lol.


of CDs, Kino & whatsmore?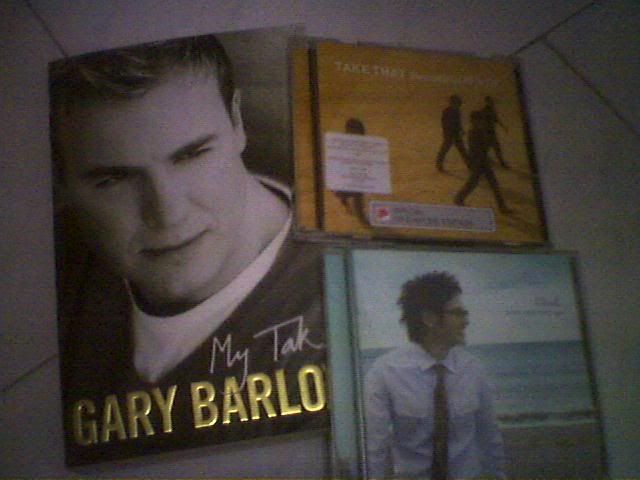 the haul over 2 weekends
haven't been buying CDs in yons now,
but Take That came back together and i HAD to buy 1 in support of my all-time favourite singer, Gary Barlow
1 led to another and i bought a second CD, haha (
guess whose?
)
got the Biography of his too @ Kino (
there was only 2 copies in stock, of course, since he isn't well-known in SG, what a shame, really
)
P.S: the human traffic at Orchard was 1 word "Shitified", never going to go to town during the festive seasons period liao. it doesn't help that it was drizzling and everyone left home without a brolly and had to jam pack the walkway linking Orchard MRT to Wisma. i gathered from a friend that ViVoCity was alot worst.
P.S.S: Glory Glory Man United, 3-0 at Villa Park, and
Scholesy
scoring an
absolute Scorcher
!! from
25 yards out
!!!
Labels: Man United, musicaano, random muses
Monday, December 18, 2006
yet another random post
soon soon , it will all be over

just hang in there

the 16th was all a mistake

Saturday, December 02, 2006
just a breather...
wheww....guess what~ i'm finally not working on a sunny Saturday morning. lol.
just a few notes to make,
another Trip is in the works =) most probably the last holiday before i embark on a 5-yr "穷书生" status.
so terribly exciting .... new state, old country, new friends, new opportunities, new choices. eh guys, when you have time (
& spared enough cash
) in the future, pop by good ol' Sydney, yea?
my guitar has gathered at least 1in thick dust on the cover. wah lau eh....so much for the hobby...but i will pick it up whenever i have time, but..but...HOW to find time when one is working 6 days a week and the only rest day is spent either hanging out with friends or plain over-sleeping, and the cycle repeats itself. I treasure my sleep alot and I think it runs in the family, muhahaha~~~
damn, at the rate i'm spending, i don't think i have saved much. mati LAH.