Saturday, July 30, 2005
Moving on...
will be moving out tomorrow morning. to a location nearer to school with a classmate.

guess i will not be online for a week ah. depends on the efficiency of the telstra people. hopefully within the following week, i'm up and running.

till then, ciao~

pun1 ou1 lo (canto)

pua chu lo (hokkien)

Tuesday, July 26, 2005
F* you abo
FUCK! i really have to swear.

i almost freaking got robbed just 15mins ago. on the way home from school, walking the main road path back home.

this abo boy was riding on a bicyle towards me, i am always kind of wary of people on the way back home usually.

sure enough, that freaking black arse tried to snatch my duffel bag. usually i would sling it over my body, but today i just hung it off the shoulder. lucky thing i was holding onto the bag.

he snatch and i held on. after that i stared hard at him after he rode pass, he stared back.

i have to say, i was pretty stoned, 'cuz tired mah. After that I realized.... why i didnt swear at him or kick the freaking bike onto the main road and let passing by cars run him over. Chee Bye!

call me cruel, i KNN wish that arse died on the spot. Spit on his black face and let him rot to die. CB, KNN, LJ, Black shit.

Best thing was that just a few tens of metres ahead, there was the policemen and patrol car; just up front there was a car-car collision.

seriously think it's time something is done.

Sunday, July 24, 2005
我爱你,爱着你,就像大象爱蚂蚁?!?
One of the more interesting conversations I had during my break back in SG.....


Was in KTV, with an ex-attachment colleague of mine. She hasn't been to K before, so being the ever friendly [if you believe me] local pest, took her there.

Previously, she mentioned that she doesn't know much songs, so she's not sure if she can sing those songs available.

Hence, I chose this particular song and I said, "Wah! This song you confirm know one. Kill me if you don't."

The MV played; and we see 1 mouse scurrying around.

The lyrics came up…

She: "Oh! I know. Is that "大象爱蚂蚁" mah."

Me: "What lah! What 大象爱蚂蚁. Crap sia. Bo ho chio lo"

She: "Ya what. That's what my sister told me. She say this song very popular."

Me: "See what happens when you don't dig your ears, ear-shit builds up. HA!"

*for those lost souls, we were talking about "老鼠爱大米". This song is so blardy over-played when I was back home. Blardy irritating and I thought it should have passed over when I got back. Crap.

ok ok link you up
miss patty cakes has been hinting to me for the past few days to link her up in my post.
ok loh.
link
link
link
enough bo?
somemore lah, over here
link
link
link
not as if alot of people read my blog, judging from my daily hits..haha..
hope your blog gets more hits after this.
Saturday, July 23, 2005
.....
"hmm"

"ok"

"thanks"

thats all you know

Friday, July 22, 2005
"what the f"....fire that is
just after i left home earlier this year, my estate caught fire and caused quite a como for a short period of time...

now after i leave home for barely 1 week and lau pa sat caught fire.

wah piang eh! always miss the action. catch no "smoke" around.

"fire fire burn so high, ka ni nabeh chao ch** by* "

haha..just a rhythm that popped into my head at the last mo. think i saw this "artistic" piece of work in a cubicle of a public toliet back a few years ago. i think.

Thursday, July 21, 2005
The Me-Me Mo-Mo came my way
thanks to the one known as patty cake..keke..
i have a me-me mo-mo !
Total number of shoes you own:
eh..shoes include sandals 1 meh? nevermind lah..just count it.
1 pair of source sandals
2 pairs of nike [air zoom & vandal hi]
1 pair of dada [bball's]
1 pair of reebok [dmx x-trainer]
1 pair of converse [hi-cut]
1 pair of timberland [yellow boots]
that's only 7 pairs in total =P
The last pair of shoes you bought:
nike vandal hi, got it from the nike factory outlet in perth back a few months ago. this edition was made of cowhide. only AUD50. hee hee
passing the mo-mo to
meow
&
gene
*guys, just cut and paste the questions above in your own blog and answer them, it's that simple!
Wednesday, July 20, 2005
Summing up Singapore
Too lazy to type out all the details, so here's the summary as much as I can recall.
Furthest place been to: Clementi, Upper Thomas Road, Novena
Most frequent place: where else, my sweet hometown, Tampines
Didn't do much shopping except for necessities to bring back.
Drank kopi at kopi tiams almost everyday.
Ate Pig Organs' Soup twice [too much is bad for health mah, craved also don't kill yourself, keke. My friends would have sworn that I was grinning throughout the entire time I was eating, with that look of satisfaction. LOL]
Ate Roti Prata thrice [many thanks to the Hydro gang for that delicious prata recommendation at Upper Thomas]
Ate sushi twice [finally tried sakae sushi, better than genki]
Also ate at various restaurants [Ding tai feng is so-so, i love crystal jade!]
Played pool at least 5 times at Pavilion, where else cheap and quite good. I wouldn't say fabulous.
Watched 2 movies [
Initial D
& War of the Worlds, the latter was a waste of $9.50. Shit]
K-ed 3 times [if I could, I would have gone more than that, no kar-kees lah]
Booze-ed with friends thrice [with the last time being the most enjoyable, quoting
Meow
saying "Trying to test my patience".]
Check out why
here
.
da chilli bomb. i couldn't help laughing. my sides were aching damn badly.
aftermath : mua scrubbing my "work".
Just for the record again; I swear it was not intention.
Tuesday, July 19, 2005
Si Bei [fill in the blank]
like what Recruit Teo Ah Beng says in Army Daze
"si bei tan jia ah" / "sian ah, si bei sian"
the Roach says
"si bei bo eng ah"
update more in a few days...
*back in school for 2 days and i'm rushing stuffs out again...siao bo !
Thursday, July 14, 2005
Of audio blues
On Tuesday, I was at SLS with a long time friend of mine, she wanted to get Zen Micro 'cause she decided it's time to upgrade to a mp3 player after spoiling 2 discmans. Keke..

"Zen Micro? iPod Mini? iRiver? korean players?"

Dilemma Dilemma....

She was tempted to get the Zen Micro for $330 along with the AC adaptor and the usual package but I told her to think first ah. Often enough people buy on impulse and then only to regret later, but one will have to comment on the fact that we still do get pleasure out of buying on impulse, just that momentarily happiness then reality strikes "Shit! Why I buy ah? Blardy hell, waste money!"

True enough, yesterday she decided that Zen Micro isn't that player for her and thank god that she didn't get it then.

I must say that I was tempted to get a new player myself yesterday after my NX player almost gave me a heart attack by not functioning sometime back in early May. I did a stupid thing of re-formatting the player and almost totally lost it. But luckily, I managed to find the driver from the website and reloaded the program into the player.

Don't know what will I do if it should stop working again. CHOI ! Touch Wood !

Latest update: my friend is going for the 1 GB Creative Muvo TX with FM function. After all the hassle, haha…save money and it serves the function.

Ok liao lah, mai hiam!

Tuesday, July 12, 2005
Kopi-Peng
got this off
powerpuff's
by the way, iced coffee causes buildup of fats or lipids if you rather to call it.
yeap. and that goes for the frappucinos and iced mocha. keke.
In reality, i prefer hot kopi ah..not the cold ones.
You Are an Iced Coffee

At your best, you are: hyper, modern, and athletic
At your worst, you are: cheap and angsty
You drink coffee when: you're out with friends
Your caffeine addiction level: medium
Sunday, July 10, 2005
"auntie, kopi please"
tell me is it so that damn hard to find a decent la kopi partner?

fuck. really.

blardy hell. so blardy buey onz.

Demophobia
don't know if it's demophobia or plainly the blues.

suddenly i don't want to see people on the outside.

mental discomfort.

Wednesday, July 06, 2005
Long Lost Friend
was walking down pass plaza singapura last weekend when i saw this long lost friend of mine...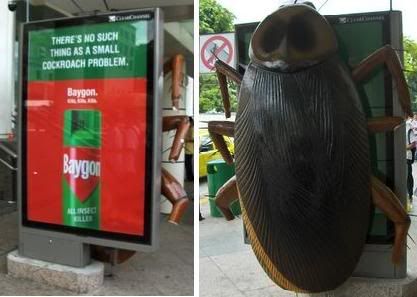 another kachuaz! for baygon! keke

by the way, is papa roti or rotiboy better ah? so far only tried rotiboy.
Tuesday, July 05, 2005
Sunny Singapore Finally
haha..finally back in SG and enjoying myself definately. that explains the semi-abandon blog over here.
been busy meeting up with friends,having fun and eating good food. watched initial D just now with me cuz, sort of weird relationship within the characters. but otherwise enjoyable.
have to say...edison chen so damn shuai ah. can drool! hee hee hee...moreover he played ryosuke takahashi...lagi better! he's my favourite character in the anime.
more later.....
Saturday, July 02, 2005
broke your foot?

i always thought you had it easy.